Nauticam NA-RX100VII Pro Package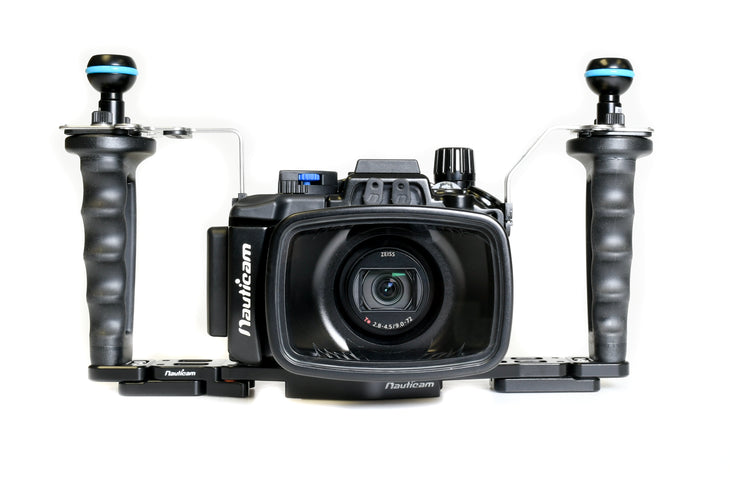 $2,030.00
Regular price $2,030.00 Sale
Nauticam NA-RX100VII Underwater Housing
Mission Control
The NA-RX100VII follows Nauticam's design philosophy of placing the camera controls where they are most needed and easily accessible. The record button is colored red and within easy reach of the right side of the housing, even when using an optional tray system. The pop-up flash can be activated or stowed with the camera inside the housing, eliminating the need to preset the flash before inserting the camera and allowing quick changes between artificial and ambient lighting scenarios.
The shutter speed and aperture controls feature easy-to-use control wheels, with the front dial sporting large grooves to facilitate fingertip control without having to reach forward.
Interchangeable N50 Port
To maximize the added flexibility of the longer zoom lens on the RX100 VII, the NA-RX100VII features an interchangeable N50 port. The Standard Port that is included with the underwater housing allows for the use of the full zoom range and is compatible with the 25107 M67 Flip Diopter Holder. At 90mm equivalent and above, the RX100VII can be used with the SMC-1 wet-optic to achieve true super-macro capability.
Premium Professional Optics
For super wide-angle, the standard port can be changed for 38702 N50 Short Port with Bayonet Mount. This port is ready to support the WWL-1 Wet-Wide Lens with the intuitive and convenient bayonet-mounting system. Zoom range is still accessible but is limited to 65mm equivalent. The WWL-1 can be changed underwater with the CMC-1 or CMC-2 to give macro capabilities on the same dive.
HDMI Output
The RX100VII has HDMI output for video, allowing for the use of external monitors which make judging exposure, focus and composition easier than using the built-in LCD of the camera. By adding the optional 25028 Socket Extension and 25032 Custom HDMI bulkhead, the NA-RX100VII is compatible with external monitor housings such as the NA-502B-H or NA-Ninja V (HDMI 1.4 connection only).
Integrated Vacuum Check and Leak Detection System
The Nauticam vacuum check and leak detection system is shipped with NA-RX100VII as standard equipment. Combined with an accessory M14 Vacuum Valve II (PN 25624), this monitoring system provides constant updates on the watertight and safe-to-dive status of the housing. A simple color-coded LED lighting system lets the user know that the vacuum is solid, or that the housing is losing vacuum. Leak detection is built into the same circuit, so if there is water intrusion, an audible and visual indication will occur.

The Nauticam system is temperature compensated, eliminating false alarms caused by a change in outside temperature, or from a camera heating up on an action-packed dive.
---
What's In The Box
NA-RX100VII Underwater Housing with Standard Port
Spare O-ring 90135, Removal Tool and Lubricant
Allen key Set
Padded Travel Case
CR2032 Battery (for vacuum system)
Flexitray
Set of handle brackets with shutter release trigger
Right handle
Ball Mounts

Vacuum Valve (PN 25624)
Recommended Accessories
HDMI Connectivity Accessories
25028 Socket extension for 25032 HDMI bulkhead with M16 thread
25032 Custom HDMI bulkhead to use with a socket extension
25046 HDMI (D-D) cable in 200mm length (for connection from HDMI Bulkhead to camera)
---