Nauticam Weapon LT Housing for RED DSMC2 Camera System (N120 Port)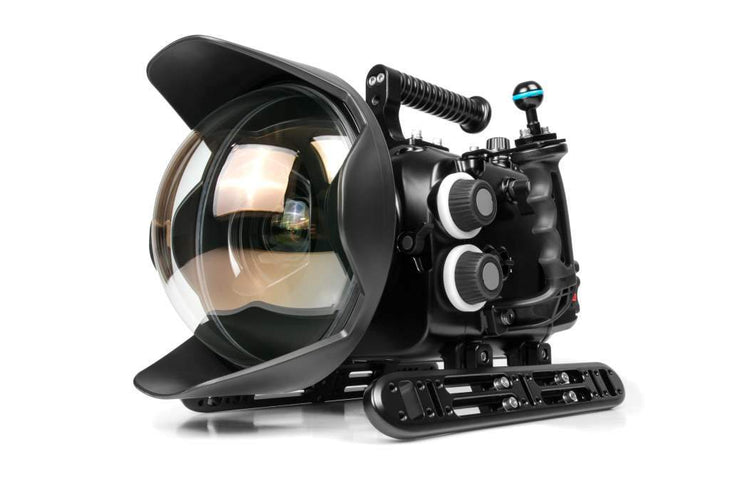 $13,337.00
Regular price $13,337.00 Sale
The Nauticam Weapon LT Underwater Housing
The Nauticam Weapon LT housing is the smallest, lightest, and easiest to operate underwater housing for RED Cameras available. On location, the usability of this system is unmatched. Set up and tear down in minutes, easily swap batteries and recording media while the camera is mounted in the housing, and lens changes in seconds. The small size and light weight dramatically decrease resistance in water, especially when free diving.
The Weapon LT housing is compatible with all DSMC2 bodies.
This version of the housing uses the N120 port system which allows for the use of even the largest diameter DSLR lenses such as the Canon Ultra-Wide Zoom EF 11-24mm f/4 USM. When paired with the Monstro VV sensor the Weapon will capture the full 126º05' rectilinear field of view.
External Monitor Support
The Weapon LT housing supports the use of optional bulkheads to support a variety of external monitors with either SDI or LEMO connectivity. With LEMO support the use of the REDTOUCH monitor is possible removing the need for monitor battery changes as was necessary with SDI monitors like the SmallHD.
Integrated Vacuum Check and Leak Detection System
The Nauticam vacuum check and leak detection system is shipped with Weapon LT as standard equipment. Combined with an accessory vacuum valve (PN 25625), this monitoring system provides constant updates on the water tight and safe-to-dive status of the housing. A simple color coded LED lighting system lets the user know that the vacuum is solid, or that the housing is losing vacuum. Leak detection is built into the same circuit, so if there is water intrusion, an audible and visual indication will occur.
The Nauticam system is temperature compensated, eliminating false alarms caused by a change in outside temperature, or from a camera heating up on an action packed dive.
For complete compatibility, check out our blog here.  
Installation Guide: Nauticam DSMC2 LT from Reef Photo & Video on Vimeo.
What's In The Box:
(1) 16109 NA-Weapon LT Housing for RED DSMC2
(1) Nauticam Trim Weight Set (4 pcs) - (2) 1.0kg, (2) 0.5kg
(1) 28111 Nauticam N120 Housing Body Cap
(1) Nauticam Left and Right Handles
(1) 25625 Nauticam M16 Vacuum Valve II (Pushbutton Release)
(1) 90171 Nauticam Allen Key Set
(2) 90122 Nauticam Housing O-Ring Red LT
(1) NAM0084 Nauticam O-Ring Remover Tool
(1) 25016 Nauticam Lubricant
(1) Pelican 1620 Wheeled Case with Custom fit foam inserts
Nauticam Weapon LT Housing Optional Accessories:
16227 Nauticam Epic/Weapon LT Housing Skids
16221 Nauticam Top Handle for Epic/Weapon LT Housings
16229 Nauticam DSMC2 REDTOUCH 4.7 Monitor Back for Weapon LT
16231 Nauticam DSMC2 REDTOUCH 4.7 Monitor Shade Extension
16112 Nauticam NA-RT4.7 Housing for REDTouch 4.7" LCD Monitor with Monitor Shade
16110 Nauticam NA-RT7 Housing for REDTOUCH 7 LCD Monitor, DSMC2 Pogo Monitor Connection
---