Zeiss Loxia 21mm f/2.8 for Sony E Mount Full Frame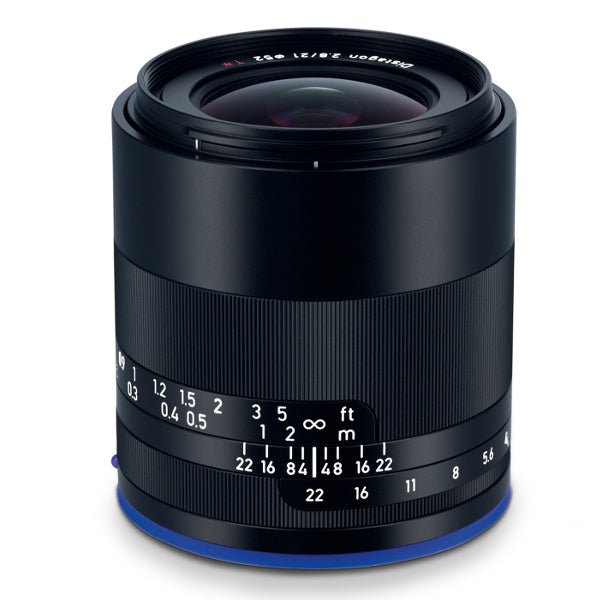 $1,549.00
Regular price $1,549.00 Sale
Zeiss Loxia 21mm f/2.8 for Sony E Mount Full Frame
The Loxia f/2.8  21mm is a compact, super-wide angle manual focus lens designed for the Sony FE camera system.  The lens introduces a new optical design specially developed for high resolution, full-frame sensors such as the one used in the Sony A7RII.  Like the Loxia 35 and Loxia 50, the new lens is also well suited for video applications using cameras like the Sony PXW-FS5 and PXW-FS7. 
Despite its compactness, the super wide-angle ZEISS Loxia® 2.8/21 offers outstanding image performance – across the entire image field of a full-frame sensor. Whether architecture, landscape or also three-dimensional subjects in close-up against a spacious background – this focal length with its large image angle is an excellent addition to the Loxia lens family. It is an absolute must for wide-angle fans who want to capture even the tiniest details of a special moment in a photo or on film.
ZEISS Loxia lenses were specifically designed for Sony α7 cameras. This means that they can make the most of the mirrorless, full frame system, while giving you all the creative possibilities of 'classic' photography with manual focus at the same time. 
And that's not all: ZEISS Loxia lenses also provide everything you need to shoot high quality video, such as the unique DeClick feature for smooth adjustment of the aperture, for example.  This means that for video applications, you can smoothly eliminate any unwanted differences in brightness as you pan the camera. This feature can also be used with other video systems whose size makes them suitable for adaption.
Tangible quality that holds its value is what qualifies ZEISS lenses for decades of hard use. A precision-engineered full-metal casing, grippy focus and aperture rings made of metal, and a tough front bayonet and filter screw guarantee stunning photographic results. A special sealing ring on the bayonet also protects the interface between the camera and the lens.
Focal length; 21 mm 
Aperture range; f/2.8 – f/22 
Focusing range; 0.25 m (9.84") – ∞ 
Number of elements / groups; 11 / 9 
Angular field, diagonal/horizontal/vertical; 91° / 81° / 59° 
Coverage at close range; 281 x 187 mm (11.06 x 7.36″) 
Filter thread; 52mm
Dimensions (with caps); 85 mm (3.35″) 
Weight

394 g (0.87 lbs) 
---