Nauticam Super Macro Converter 2 (SMC-2, 4x Magnification with 100mm Lenses)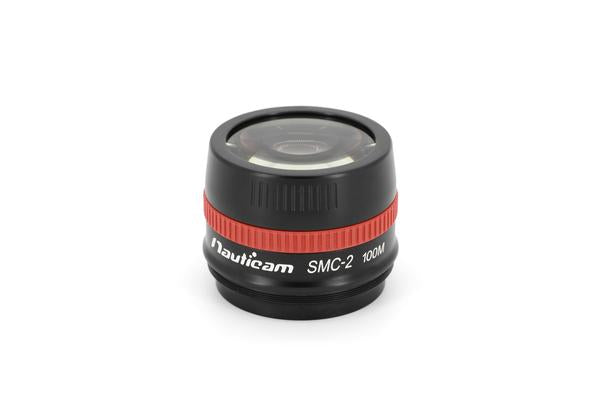 Introducing Nauticam Super Macro Converter 2 (SMC-2, 4x Magnification with 100mm Lenses)
Breakthrough Lens Design
Prior to the Super Macro Converter, achieving "super macro" underwater meant using tools that were designed for in air use. These tools simply do not take into account the physics of shooting in water. The SMC takes a radically different approach: treat the system – camera, lens, port, air, and water – as a whole, and account for the air-water interfaces in a conversion lens design to achieve the best image quality possible. The improvement is stunning, measurable and a new standard in underwater macro imaging has been established.
Two key advantages to this internationally patent pending new optical design:
Higher Magnification Than Other Popular Super Macro Tools with Increased Working Distance
Better Edge to Edge Image Quality, Higher Contrast, and Lower Color Fringing
Edward Lai, Managing Director of Nauticam, has utilized a revolutionary approach in developing the SMC-2. This is a completely new lens design, developed through hundreds of engineering hours utilizing computer software to model the optical properties of the complete underwater imaging system. Incorporating these factors into the design yields amazing sharpness, contrast, and clarity that isn't available from a simple magnifying lens for use in air sealed in a waterproof enclosure.
Uncompromised Optical Quality
The Super Macro Converter -2 is constructed from lenses are precision crafted of specially formulated low dispersion optical grade glass, ground to the most demanding standards. These exceptional measures, enhanced by broadband anti-refective coatings effectively reduce common optical issues such as chromatic aberrations, coma, spherical aberration, and field deformation associated with underwater macro photography using traditional magnifying lenses. These optics are assembled in a rugged hard anodized aluminum housing, and nitrogen purged during assembly to eliminate fogging.
Stunning Magnification
When combined with a full frame camera and a 100mm or 105mm macro lens, the device converts the optical system to provide a maximum of 4X magnification factor.
Improved Sharpness and Contrast
As the Super Macro Converter 2 is optimized explicitly for using together with a macro lens underwater, images captured exhibit exceptional sharpness compared with conventional magnification lenses. Thanks to the broadband multi-layer anti-reflection coating on each surface of the lenses, images also exhibit higher contrast.
Superb Light Transmission
All the lens elements installed inside the SMC-2 are optically optimized to appropriate diameters so as to provide maximum light transmission. The SMC-2 doesn't suffer from vignette issues under even the most extreme conditions. The broad band multi-layer anti-reflection coating on all surfaces also greatly improves light transmission.
Optimized for Autofocus
By utilizing a specially developed algorithm in the optimization process, the SMC-2 renders superior image quality over the full focusing range of the camera lens (which becomes ~20 to ~40 mm in front of the SMC). Also benefitting from the high brightness and contrast of the image, the autofocus system of the camera usually works acceptably well within this range.
Resolution
High resolution was a primary design goal of the SMC-2 project. This has been achieved using computer aided optimization and high grade optical glasses with unique refractive and dispersion properties. Images taken with this new system exhibit very high resolution and quality. Results have exceeded expectations, and these images rival the quality of the macro lens in air.
Smooth Bokeh
The Converter retains the optical properties of the macro lens for the whole system underwater, resulting in a blurred (out of focus) background that has a pleasing smoothness and creamy look, without the normal purple and green fringing.
Avoiding Diffraction
Due to the overall superior optical performance of the SMC-2 it is possible to shoot larger apertures with excellent image quality. This avoids reaching the diffraction limit of high resolution sensors, and allows selective focus effects with narrow depth of field in super macro images.
Resources
Support & Downloads