Nauticam NA-GH5V Housing for Panasonic Lumix GH5/GH5S Camera with HDMI 2.0 Support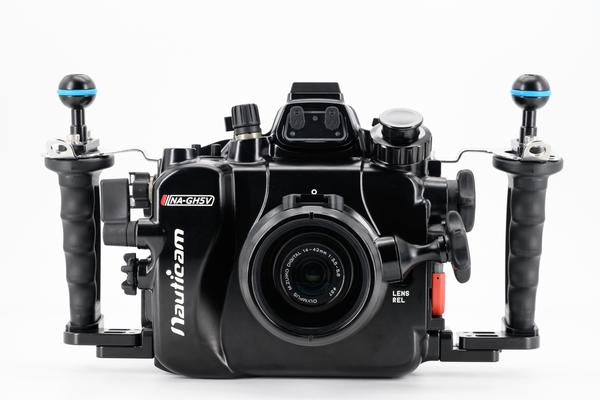 Introducing Nauticam NA-GH5V Housing for Panasonic Lumix GH5/GH5S Camera with HDMI 2.0 Support
Resources
The Panasonic GH5 and GH5S
The Panasonic GH5 is a new camera body, positioned above the successful GH4, and improving it in every way. At the core is a 20 megapixel sensor with completely revamped video functionality. When shooting motion, GH5 reads the entire 5K sensor, then resamples in camera to create each individual 4K frame. This results in increased sharpness with no change in lens angle of coverage! Panasonic didn't stop there, unlocking UHD video capture at up to 29.97 fps with 4:2:2 10-bit chroma sub-sampling. Simply put, this means the GH5 can capture twice the color information with 64x the precision of a 4:2:0 8-bit system. The GH5S, featuring the same body as the GH5 is even more video focused than its sibling. The GH5S features an anamorphic 10.2MP sensor featuring Dual Native ISO technology borrowed from the high end VariCam that can record DCI 4K internally at up to 30fps with 10-bit 4:2:2 color and HDR Hybrid Log Gamma support.
Panasonic GH5 Key Features
20MP Four Thirds sensor (no OLPF)
5-axis in-body image stabilization system with 'Dual IS 2' support
All 4K footage taken using full width of sensor (oversampled from 5.1K footage)
Internal 4K/30p 10-bit 4:2:2 video capture
4K/59.94p and 50p shooting with 10-bit 4:2:2 output or 8-bit, 4:2:0 internal recording
Panasonic GH5S Key Features
10MP Anamorphic sensor
Dual Native ISO of 400 and 2,500
DCI 4K 10-bit 4:2:2 at 30fps internal recording with simultaneous 10-bit 4:2:2 feed through HDMI out
1.8x crop factor vs 2.0x crop factor of GH5
The Nauticam NA-GH5V Underwater Housing
The NA-GH5V housing is small, but not at the expense of functionality or ergonomics. Integrated handles provide a sturdy and comfortable base to operate the system from. A sculpted shutter release lever, thumb lever for AE-L / AF-L, and well placed control dials provide the same operational feel as any Nauticam DSLR housing. Control buttons are placed within easy reach of the handles, with sufficient spacing to allow easy operation, even by feel. The NA-GH5 is a professional grade underwater housing, built with cutting edge manufacturing technology, supporting the pro-level GH5/GH5S camera bodies to its full potential.
The GH5/GH5S feature four custom White Balance Presets allowing the video shooter to store settings for various depths as well as natural/artificial light scenes and switch between them quickly on a dive. Access to these presets is a breeze with the NA-GH5 mission control layout. A second thumb lever on the right side of the housing, easily accessed from the handle, brings up the white balance presets. Simply scroll to the desired preset and film away.
Premium Professional Optics
The variety of optics solutions for the NA-GH5 are staggering. Whether you're choosing a MFT open-source standard lens such as the Panasonic 8mm Fisheye or the ultra-fast Olympus 60mm macro lens there is an N85 port system port for you.
Looking for zoom-through capability and both macro and wide on the same dive? The WWL-1 and CMC wet-mate system allows for unmatched corner sharpness for your wide angle and ridiculous reproduction ratios for your macro. The bayonet mount system allows for switching underwater.
TTL and Manual Optical Strobe Triggering
Add the optional Panasonic DMW-FL70 Flash inside the housing for reliable, accurate triggering of optical TTL compatible strobes. The DMW-FL70 is not compatible with the GH5II.  Please use the 26309 Mini Flash Trigger for the GH5II. Rapid fire manual triggering is also available with the Nauticam Mini Flash Trigger .
HDMI 2.0 Output
The NA-GH5V housing is a version of the NA-GH5 housing that features the M28 bulkhead connection that supports HDMI 2.0 connections for use with the NA-NinjaV housing for the Atomos Ninja V recorder. This allows for 4K 60p 10-bit 4:2:2 output and recording. The standard NA-GH5 housing supports up to HDMI 1.4.
Matched with the integrated tripod mounting ball attachment points the NA-GH5 can be turned into a steady macro or time-lapse platform.
Support & Downloads
What's In The Box?
NA-GH5 Housing
Spare Main O-ring
O-ring Remover
CR-2450 Battery (for Moisture Alarm)
Lubricant
Set of Allen Keys