Nauticam NA-G7XIII Housing for Canon PowerShot G7X Mark III Camera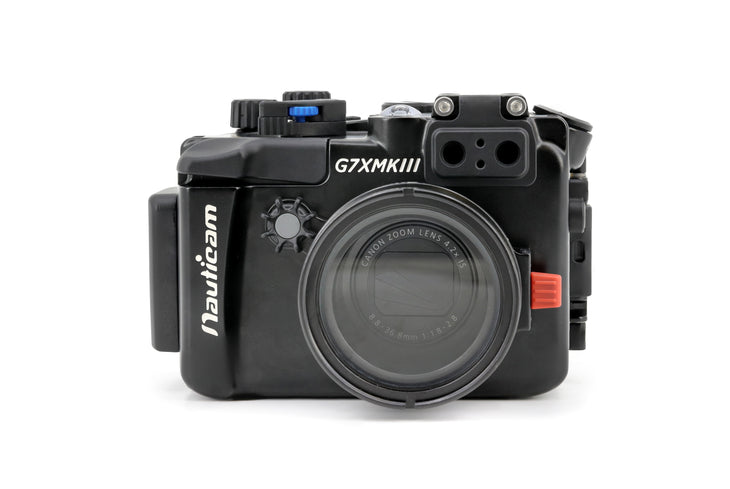 $1,379.00
Regular price $1,379.00 Sale
The G7X Mark III camera continues to live up to the incredibly high standard set by its predecessor the G7X Mark II. Thanks to its overall image quality, snappy autofocus, excellent manual white balance, and useful built-in macro mode, this little camera makes a big impression. This feature set, paired with the most ergonomic, rugged, and easy to use underwater housing available forms a perfect underwater imaging combination.
Housing Specifications
| | |
| --- | --- |
| Flash Triggering | Fiber optic bulkhead pre-installed |
| Replacement O-ring | 90135 |
| Vacuum System | Electronics pre-installed |
The N50 Port System
The NA-G7XIII ships with the "Standard" Port but other ports are available from the N50 system. Supplied with the housing, this port allows full zoom through and features a 67mm threaded front for attaching accessory macro lenses or a flip-adapter. This port is ideal for mid-range fish portraiture or close-up and macro work with add on wet-lenses.
Integrated Vacuum Check and Leak Detection System
The Nauticam vacuum check and leak detection system is shipped with NA-G7XIII as standard equipment. Combined with an optional accessory vacuum valve (PN 25624), this monitoring system provides constant updates on the watertight and safe-to-dive status of the housing. A simple color-coded LED lighting system lets the user know that the vacuum is solid, or that the housing is losing vacuum. Leak detection is built into the same circuit, so if there is water intrusion, an audible and visual indication will occur.
HDMI Output
The G7X Mark III has HDMI output for video, allowing for the use of external monitors which make judging exposure, focus and composition easier than using the built-in LCD of the camera. Nauticam has included an m16 port on the NA-G7XIII to take advantage of HDMI connectivity. By adding the optional 25028 Socket Extension and 25032 Custom HDMI bulkhead, the NA-G7XIII is compatible with external monitor housings such as the NA-502B-H or NA-Ninja V (HDMI 1.4 connection only).
What's In The Box?
NA-G7XIII housing
N50 Standard Port
Instruction manual
Spare silicone rubber housing o-ring (90135)
O-ring remover
CR2032 battery (for moisture alarm)
Lubricant
Set of Allen keys
Set of handle brackets with shutter release trigger
Recommended Accessories
25624 M14 Vacuum Valve II (Pushbutton Release)
25123 LCD Magnifier attachment rails for NA-S110/S120/TG3/G7X/G7XII/G7XIII
25106 LCD Magnifier with Dioptric Adjustment
38022 Diffuser for NA-G7X/G7XII housing (for production version)
71206 Easitray II with left handle (with 2pcs 1/4'' screws)
71207 Flexitray II with left handle (with 2pcs 1/4'' screws)
71208 Adjustable right handle II (for Easitray II &Flexitray II)
38702 N50 3.5'' acrylic Dome Port
38703 N50 Short Port with Bayonet Mount (To use with WWL-1)
(*zoom range 24-65mm)
83201 Wet Wide Lens 1 (WWL-1) 130 deg. FOV with compatible 28mm Lenses
83214 Bayonet Mount Adaptor for SMC/CMC
81301 Compact Macro Convertor 1 (CMC-1, 4.5X Magnification)
81302 Compact Macro Convertor 2(CMC-2, 2.8X Magnification)
HDMI
Connectivity Accessories
25028 Socket extension for 25032 HDMI bulkhead with M16 thread *1
25032 Custom HDMI bulkhead to use with a socket extension
25076 HDMI (D-D) Cable in 200mm Length for NA-XT2/XH1/A6400 (for internal connection from HDMI bulkhead to camera) *2
*1 M16 extension ring is required, which is included in NA-058/502H/FHD5/502B-H monitor housing.
*2 The pop-up flash needs to be in up position in order for the internal cable to work (flash up lever is disabled when using an external monitor)
---