Nauticam Flexitray II W with Left Handle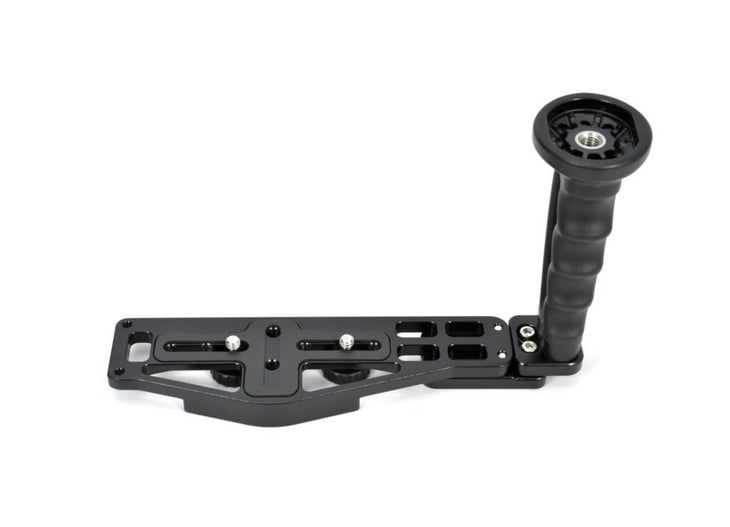 with 2 Tripod Holes
SKU # 71209
$211.00
Regular price $211.00 Sale
Flexitray II W adds two 1/4-20 threaded tripod mounting holes to the popular Flexitray II. The Flexitray II W does not have the anti-rotation feature of the Flexitray II. For compact and point-and-shoot housings that have only one tripod mounting screw, please use the Flexitray II.
Comparing Flexitray II (top) with Flexitray II W (bottom) , Note the tripod mounting holes in the middle of the Flexitray II W.
The left handle of the Flexitray II W is adjustable for width (length of tray). If additional length is desired the optional Nauticam 20mm extension or Nauticam 30mm extension can be added to this tray. The handle is also adjustable front and giving the ability to adjust your Flexitray II for much more comfort and camera control than ordinary camera trays.
The bottom side of the tray is designed to lay flat. On the top side of the tray is a rubber insert which can reduce the possibility of scratching your housing and, more importantly, increases friction between the camera housing and the tray for improved stability.
The Flexitray II W is supplied with 1/4 – 20 thumbscrews which fit most tripod mount threads. Thumbscrews in thread #12-24 (Ikelite housings) and 6mm are also available. Optional T-groove plates and 1" ball mounts are custom designed to fit these handles.
An adjustable right side handle is available that quickly mounts to this tray. With the optional Nauticam right-handle kit added the distance from handle to handle can be adjusted from 8+3/4 inch to 10+1/4 inch (center to center measurement).
Related accessories:
71208 Adjustable right handle II (for Easitray II & Flexitray II)
71311 Strobe mounting ball (for Easitray II & Flexitray II)
71312 T-plate mount (for Easitray II & Flexitray II)
71321 20mm tray extension
71322 30mm tray extension
71511 Camera mounting screw 1/4"
71512 Camera mounting screw Ikelite standard
71513 Camera mounting screw M6
---