Sigma 24mm f/1.4 DG HSM Art for Canon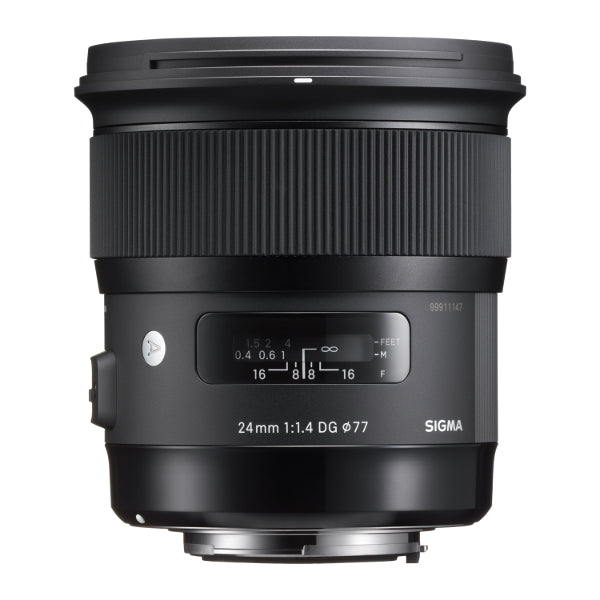 $849.00
Regular price $849.00 $849.00 Sale
Sigma 24mm f/1.4 DG HSM | Art for Canon
Sigma DG Lens for Full Frame or APS-C Canon Cameras.
Exceptional Image Quality
Incredible focal point sharpness when wide open

Pairs well with Pro-Level DSLR's

MTF A1-tested
Front & rear lens caps and lens hood (LH830-03) is included
New Additional function added to SIGMA USB DOCK
With the optional SIGMA USB DOCK, you can update your lens firmware, adjust focus points and customize the setting of Full-time MF function and the timing to operate the Full-time MF function.  By attaching this lens to a SIGMA USB DOCK, which is connected to a computer, the dedicated software "SIGMA Optimization Pro" offers various types of customization and adjustment. 
Excellent correction of sagittal coma flare
Generally it is ideal for a lens to have a high rendering performance from the maximum aperture throughout the entire image. For instance, sagittal coma flare, where the point light sources do not gather at one point and leaves a tail, is a typical flare that occurs especially with wide-angle lenses.
The SIGMA Art | 24mm F1.4 DG HSM has an optimized power layout, positioning aspherical lens elements at the rear and adjusting the incidence angle of the light source, enabling high rendering performance even from the widest aperture. It is perfect for astronomical photography and shooting illuminations because of the reduced blur on the point light sources near the edge of the image.
Excellent correction of chromatic aberration
One of the elements required to achieve high rendering performance is the correction of chromatic aberration. Particularly, for axial chromatic aberration that is hard to correct even during image processing, the lens development stage was vital in ensuring minimized distortion. The SIGMA Art | 24mm F1.4 DG HSM incorporates FLD ("F" Low Dispersion)* glass and SLD (Special Low Dispersion) glass elements to minimize chromatic aberration of magnification which is mainly visible around the edge of the image. Moreover the power layout ensures the correction of axial chromatic aberration.  Without any color blur, it achieves high image quality throughout the entire focusing range, thus achieving sharp and high contrast image rendering.
SPECIFICATIONS
Lens Construction
15 elements in 11 groups
Angle of View
84.1 degree (35mm format)
Number of Diaphragm Blades    
9 (rounded diaphragm)
Minimum Aperture

f/16
Minimum Focusing Distance
25cm / 9.8 inch
Filter Size
77mm
Maximum Magnifications
1:5.3
Dimensions
85mm diameter, 90.2mm length
3.3 inch diameter, 3.6 inch length 
Weight
 665g / 23.5 ounce
Rounded Diaphragm
The 9 blade-rounded diaphragm creates an attractive blur to the out-of-focus areas of the image.
Hyper Sonic Motor ensures High AF Speed
The HSM (Hyper Sonic Motor) ensures a silent, high-speed AF function.  By optimizing the AF algorithm, smoother AF is achieved. It incorporates a new full-time manual focusing mechanism that switches to manual focusing, simply by rotating the focus ring, even when AF is being used. This allows the photographer to make focus adjustments quickly and easily.  With the optional SIGMA USB DOCK, you can also set it to conventional full-time manual focus override.
* Depending on the mount, initial operation of full-time manual focus differs.
Brass made bayonet mount
This lens incorporates a brass made bayonet mount which has both high accuracy and durability. A special treatment to reinforce its strength is applied to the surface giving it greater strength and making it highly resistant to long-term use.
---