Subal DP-FE3 Glass Fisheye Dome Port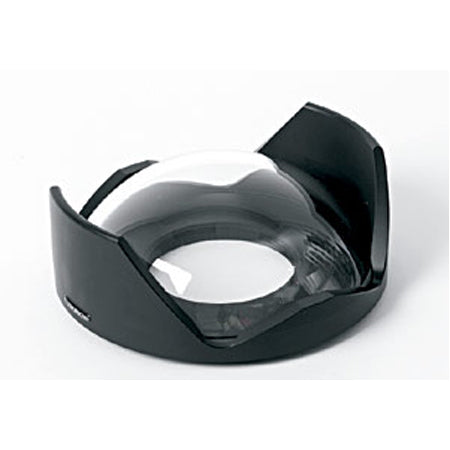 $1,533.00
Regular price $1,533.00 Sale
Subal's FE3 Dome Port is one of the best optics in the business. This 8in cross section is ideal for fisheye lenses, ultra-wide zooms, and wide angle primes used with both full frame & cropped sensor cameras.

Third Generation or Fourth Generation Mount?
Nikon insists on designing fatter & fatter lenses, forcing underwater manufacturers to adapt. We will make the switch to a larger lens mount on subal housings June 1, 2008, selling fourth genration ports unless otherwise requested. Obviously some customers with the older ports will order housings with that mount.

FE2, FE3, or FE4?
DP-FE2 is a discontinued product, and designated the second version of Subal's universal fisheye dome port. DP-FE3 is the exact same piece of glass with a third generation mount that is slightly redesigned to work with various port adapter rings.

DP-FE4 is also the same piece of glass, but is mounted on the wider fourth generation port bayonet.
Which port is best for my lens?
The easiest answer is to call or email us. Full system packages are our specialty, and we'll provide an itemized listing of all the necessary bits and pieces that make SLR cameras go underwater. Manufacturer port charts are a place to start, but they can be confusing, and don't always tell the whole story.
Do I need a diopter? Not to sound like a broken record, but again, drop us a line for the most up to date informatin. Often times we'll have purchased a particular lens before a manufacturer ever sees it in their workshop, and have worked out a solution for those on the bleeding edge of underwater photography.
Plastic v. Glass?
This one will be debated endlessly on dive boats and underwater photography forums just about as often as o-ring maintenence. There are varying opinions on which is best.
Glass domes cost more, but are far more resistant to scratching than their acrylic counterparts are. Glass sheds water more readily than does acrylic, making it the port material of choice for over/under imaging.
---