Sigma 30mm f/1.4 DC HSM Art Lens for Canon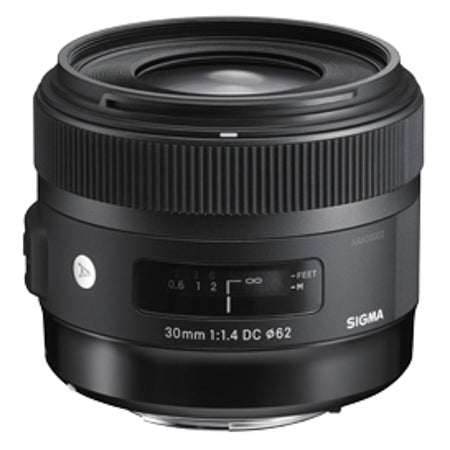 $499.00
Regular price $499.00 $499.00 Sale
Thanks to their easy-to-use angle of view, standard lenses allow photographers to express themselves fully. The SIGMA 30mm F1.4 DC HSM leverages superior optical performance to offer outstanding expressive power at a wide range of focusing distances. Optimized power distribution minimizes curvature of field, thereby preventing a loss of image quality at the edges of photographs. The use of a double aspheric lens minimizes spherical distortion, astigmatism and coma. Coma of point light sources is minimized near the edge of the image, and an attractive round bokeh effect is produced at large-aperture settings.

Offering the highest level of image quality, this large-aperture F1.4 standard lens stimulates the desire to create.

Sigma pioneered the large-aperture APS-C format standard lens category with its famous 30mm F1.4 lens. Now that we have reorganized all our lenses into three product lines, we are proud to introduce the fully updated SIGMA 30mm F1.4 DC HSM, which offers an angle of view equivalent to 45mm on a 35mm camera. Offering an angle of view and sense of perspective extremely close to that of human vision, this lens stimulates the desire to create and is ideal for many different types of photographic expression. It is a superb go-to lens for artistic photography. Featuring an advanced design and the latest manufacturing technologies, this lens delivers the highest level of image quality.

The lens incorporates a rear focus system that prevents focus-dependent variation in aberration, making high-level image quality possible throughout the entire image. With their unchanging barrel length, these lenses also enhance balance and stability for the photographer. Furthermore, since the front of the lens does not rotate, polarizing filters can be used with extra convenience.
Lens Construction     9 elements in 8 groups
Minimum aperture     F16
Filter size     φ62mm
Angle of view (SD1)     50.7°
Minimum focusing distance     30㎝ / 11.8in
Dimensions (Diameter x Length)     φ74.2mm x 63.3mm
   / 2.9in x 2.5in
Number of diaphragm blades     9 (Rounded diaphragm)
Maximum magnification ratio     1:6.8
Weight     435g / 15.3oz
---