Nauticam NA-RX100V Housing for Sony RX100M5 Camera Pro Package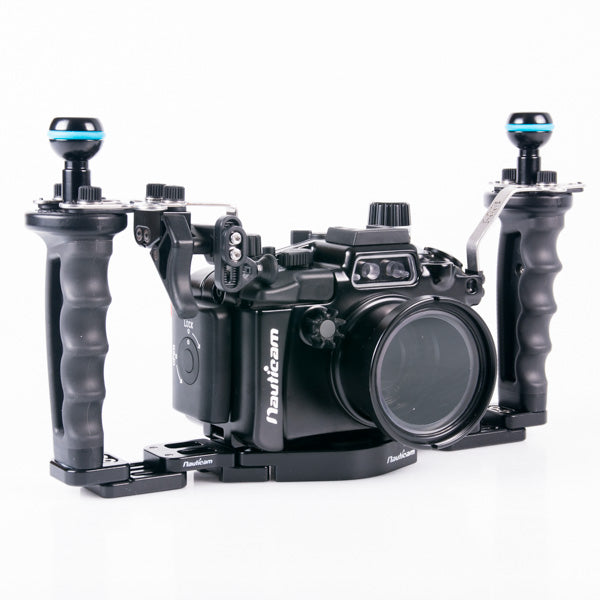 $1,894.00
Regular price $1,894.00 Sale
Nauticam NA-RX100V Pro Package
Housing for Sony RX100M5 Camera
Flexitray with Left & Right Handle
Two Mounting Balls for Handle
M14 Vacuum Valve

Camera is not included; shown for illustrative purposes only.
Nauticam designs are always improving, and new features integrated into each new release. The ergonomic experience has been tailored for a photographer's right hand on the side of the housing, placing key controls literally at the users finger tips. This package includes the Nauticam Flexitray and right handle. To better support this style of shooting, a set of stainless steel handle brackets and new mechanical shutter release trigger extension is included with every housing.
This package also includes two mounting balls and an M14 vacuum valve.
The features you'd expect are certainly present, like ergonomic design, the clearly labelled controls, sculpted shutter release and more. An updated fiber optic connection block is standard, as is the built-in vacuum check and leak detection system electronics. Accessory bulkhead port supports HDMI cables for an external monitor.
The NA-RX1000V is milled from a block of solid aluminum, then hard anodized. The result is a rugged and reliable piece of gear that will stand up to saltwater and the daily rigors of diving. Since the housing accesses all of the camera controls, including the front control ring, the user can take advantage of the enhanced programmability in the RX100 V.
The RX100 housings feature an industry standard 67mm threaded port mount, meaning it is easy to attach a number of different wet mount lenses. A compact camera underwater is only as good as the optics in front of it, and the growing Nauticam accessory lens lineup sets new performance standards with every release.
On the macro end, the Nauticam Compact Super Macro Converter-1 (CMC-1) is the ideal choice and enables a subject 35mm wide by 23mm tall to fill the photograph. This is over 4x magnification provided by the stock lens (stock lens images 160mm wide, CMC 35mm wide).
All Nauticam lenses are engineered specifically for underwater imaging, not waterproof adaptations of lenses designed for use in air, resulting in superior image quality. The CMC provides visibly sharper images than competing macro lenses, especially in the corders, with noticeably less purple fringing. The lens design is also designed with autofocus systems in mind, easing the learning curve associated with high magnification imaging.
Nauticam Vacuum Check System
The engineers at Nauticam managed to squeeze in the Nauticam vacuum monitoring and leak detection electronics. By default, it serves as an audible and visual leak detector, but add a Nauticam M14 Vacuum Valve, and it becomes a vacuum check system. The vacuum monitoring system provides early warning for any problem with watertight integrity - which means peace of mind when shooting underwater.
---