Mini PAGlink MPL99V Battery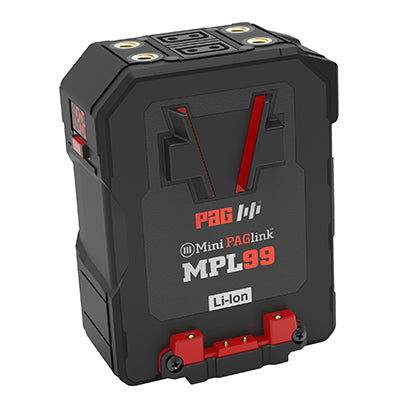 $595.00
Regular price $595.00 Sale
99 Watt-hours, 14.8V 6.7Ah
Rechargeable V-Mount Li-Ion battery
Intelligent linking technology that allows capacities to be combined (2 linked = 198Wh, 3 = 297Wh)
Current draw capability of 12A when linked, 10A individually
Hot-swap batteries for continuous power
2 x Built-in D-Tap output (12V 80W)
1 x USB output unit (5V 2A), which can be swapped for other unit types: Hirose, Lemo and D-Tap
Ideal for powering smaller 4K cameras and accessories simultaneously
The best Li-Ion cell for high-current capability and capacity retention above 500 cycles, according to NASA Battery Workshop
4 x 1/4" bushes for mounting accessories
Numeric Run-Time, Capacity & Data Display
Intelligent battery that communicates and manages its own charge and discharge safely
Up to 10 Mini PAGlink V-Mount batteries can be linked for charge or discharge, regardless of rated capacity or state of charge.
Compatible with PAGlink and other V-Mount Li-Ion chargers
Compatible with camera data systems that display capacity in the viewfinder/LCD (Sony & Red)
Ergonomic design and 'soft-touch' outer-band for secure handling
Durable case construction to withstand the toughest conditions
New modular design that allows easier servicing and authorised cell-pack replacement for greater sustainability
Battery firmware can be updated externally
Independently UN tested to meet passenger aircraft regulations
2 year guarantee with no restrictive conditions
109 x 85.5 x 50mm / 0.59kg (21oz)
First PAGlink, Now Mini PAGlink
Mini PAGlink combines all the benefits of PAG's intelligent linking technology with a reduced form factor and increased durability. PAG's patented battery linking technology remains far in advance of any other camera battery system available today.
The MPL99V is a 99Wh battery, designed to complement the dimensions of smaller cameras, but equally desirable for larger cameras. It will power cameras in combination with accessories such as lights and monitors. It provides a single, superior power source for your camera set-up.
The MPL99V features built-in outputs that the cameras lack: 2 fixed D-Taps for 12V accessories and a USB unit (5V 2A), which can be swapped easily by the user for a plug-in Lemo, Hirose or D-Tap connector unit.
Less Weight or More Power
With intelligent battery linking, you can control the capacity and weight of your power source to suit the application: 1 battery for handheld applications, 2 to 3 batteries for more current or longer run-time.
Linking two 99Wh MPL99V batteries doubles the capacity to 198Wh; 3 batteries provide 297Wh.
NASA Approved Cells
PAG's Mini PAGlink batteries feature the highest-quality Li-Ion cells, selected by the NASA for their mission to Europa, one of Jupiter's moons. The NASA Battery Workshop found they offered 'the most favourable combination of energy and cycling stability and high rate capability up to 10A'. They also demonstrated the best capacity retention after 500 cycles.
More Current & Better ROI
When batteries are linked and in similar state of charge, the current-draw capability increases from 8A to 12A. This is ideal for camera set-ups that require power for multiple accessories. Sharing the current load between batteries contributes to an extended overall battery life and a better return on investment. PAG guarantees the MPL50V for 2 years, with no limit on the number of cycles during that period.
Hot-Swap or Add
PAGlink allows seamless hot-swapping for continuous power, or the ability to add another battery just to keep shooting; putting an end to time-consuming camera reboots.
No Dead Weight
Simultaneous rather than sequential discharge means that there are no unused batteries adding dead weight to the camera.
Intelligent Linking
When linked, the batteries form a network that enables them to communicate with each other, managing the output safely, and preventing the transfer of charge between batteries. A fully-charged battery can be linked safely to one that is fully-discharged.
Compatibility & Integration
The MPL99V is compatible with full-size V-Mount camera plates. It can be linked to any Mini PAGlink V-Mount battery for discharging or charging, regardless of rated capacity. It can be charged using PAGlink or other manufacturer's V-Mount chargers, for maximum versatility and economic integration.
More Mounting Positions
Each battery features four 1/4" bush inserts. These can be used for mounting camera accessories to individual or linked batteries.
Run-Time, Capacity & Data
PAG's unique battery display shows remaining run-time, on-load, in hours and minutes. When batteries are linked, the run-time figure is for the entire stack. A single button press shows individual battery capacity as a percentage of full, in 1% increments. 3 button presses - hold, provides access to the data menu where amongst other useful information, the number of cycles can be displayed This data is designed to assist with battery management.
In-Viewfinder Information
Mini MPL99V batteries communicate automatically with multiple camera data systems, to display their remaining capacity in the viewfinder and LCD.
Flight Friendly
The MPL99V is a 99Wh battery and included in your personal allowance of 20 units of 100Wh or below, when you fly. All PAG Li-Ion batteries are tested to UN standards by an independent authority and certified to comply with air transport safety regulations. They are labelled with their UN Test number and air travel quantity allowance, based on their capacity.
More Air Transport Information
Linked Battery Charging
Linked charging allows more batteries to be charged using fewer chargers, and with less user-intervention.
Up to 10 MPL50V batteries, in any state of charge, can be linked for charging with any PAGlink charger. The batteries control their own charge regime which means that other manufacturer's Li-Ion chargers can be used (dependent on the model and firmware version).
The 2-position PAG PL16 Charger will fully-charge one fully-discharged MPL50 in 1hr 15mins, and 16 in 12hrs. State of charge as a percentage is indicated on the battery's individual display.
PAG also offers a low-cost, ultra-compact, Micro Charger, which is the ideal travel partner. It can be powered form a variety of 5-20V DC power sources, which is ideal for location use.
Ergonomic & Durable
The MPL99V features an ergonomic design and a 'soft-touch' coated outer band for safer handling and increased durability. The battery case is manufactured from high-impact, injection-moulded ABS which is inherently very strong and flexible. The MPL50V has been designed to withstand the harshest working conditions.
Modular Construction
Mini PAGlink batteries are the first to feature PAG's new, fully-serviceable, modular construction that allows authorised replacement of the cell-pack whilst maintaining conformity with UN standards and IATA air transport regulations.
Future-Proof Batteries
PAGlink battery firmware can be updated in the field by the user, in a matter of seconds, without opening the battery case. Updates enable you to benefit from the technological advances that PAG introduces to accommodate developments in camera technology.
---