Metabones Canon EF Lens to Sony E Mount T Smart Adaptor Mark IV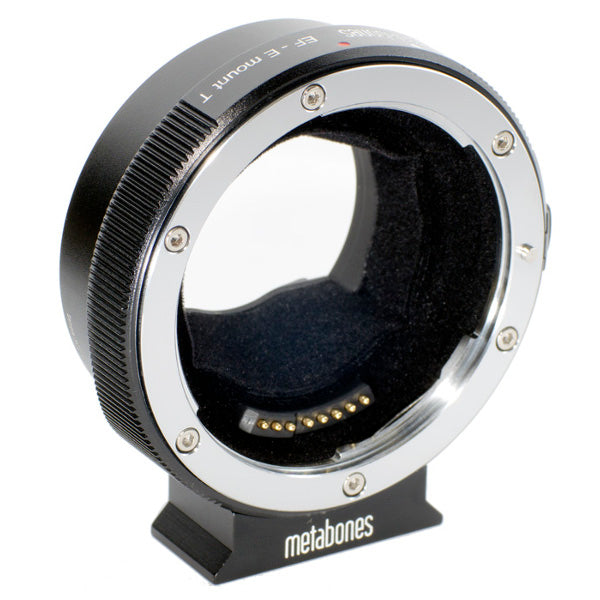 $399.00
Regular price $399.00 Sale
Metabones Canon EF Lens to Sony E Mount Smart Adaptor (Mark IV)
Limitations
Phase-detect autofocus support on A7RII and A7II.
Supports 5-axis in-body image stabilization of A7II and A7RII. (Distance information from lens required; 3-axis IBIS if lens does not transmit distance information.)
Powered by camera body. No external power source required.
Aperture control from camera body.
Wide open button (opposite of depth-of-field preview function) makes manual focusing easy and assignable to a custom function on A7 series.
High performance 32-bit processor and efficient switched-mode power supply.
Supports image stabilization (IS) lenses.
Supports electronic manual focusing (e.g. EF 85/1.2L II and discontinued EF 50/1.0L)
EXIF support (focal length, aperture, zoom range)
Distance and zoom display on VG and FS series camcorders (lens with distance information support required).
Auto magnify (lens with distance information support required)
Auto "APS-C Size Capture" on full-frame cameras with Canon EF-S lenses and many third party DX lenses.
Optical/mechanical
Fits both EF and EF-S lenses. (Vignetting at corners may occur with certain EF-S lenses because they are designed to cover a 1.6x crop image circle but Sony APS-C has a 1.5x crop factor.)
Flocking material coated inside the opening to reduce internal reflection.
The tripod foot is detachable and compatible with Arca Swiss, Markins, Photo cam ball heads.
Autofocus
Fast phase-detect AF is available only on A7RII and A7II.  On other Sony cameras, contrast-detect AF with an EF mount lens is disappointingly slow and inadequate for all but static subjects,
Even on A7RII and A7II, long telephoto lenses hunt more often and autofocus performance progressively deteriorates as focal length gets longer.
On A7RII, the AF points near the center always work well, but those on the edges and in the corners may lose effectiveness when a fast lens or a telephoto lens is used.
A7RII and A7II supports only contrast-detect AF during video recording.  This means video AF speed may be unsatisfactory.
During movie capture, autofocus needs to be manually activiated by half-pressing the shutter release button if subject moves to a different distance.  Since contrast-detect autofocus speed is slow, there may be visible disruption in the resulting footage.
With PXW-FS7, NEX-FS700 and NEX-FS100, autofocus works only in photo mode but disabled in movie capture mode.
Continuous AF is not supported.  (Does not work with contrast-detect AF and may have unsatisfactory performance with phase-detect AF of A7RII and A7II.)
Eye AF is not supported.
DMF mode (direct manual focus) is not supported.
The first two autofocus attempts are used to calibrate the lens and as a result may not lock successfully on the target.  Half-press the shutter release button again and autofocus will lock successfully.
Autofocus may have difficultly locking onto subjects which are very close to the nearest focusing distance of the lens.
Autofocus accuracy depends heavily on the working condition of the lens.  Lenses with hidden problems which may not be apparent on Canon DSLRs will lead to inaccurate and unreliable autofocus on Sony NEX.  Typical problems of this kind that we have seen include an unsmooth/erratic autofocus mechanism (e.g. getting stuck intermittently at a certain focusing distance), a faulty/worn-out distance encoder or other faulty/worn-out internal sensors.
Other
No support for lens corrections such as peripheral shading, CA and distortion.
The EF-mount lens may make audible noises during iris changes and autofocus, which may be picked up by the built-in microphone of the camera during video recording.  Use of an external microphone is advised.
Early Tamron VC lenses such as the 17-50/2.8 B005 may not be able to freely switch between OIS and IBIS because they may not report IS activity status.  The latest generation Tamron VC lenses are fine.
---