Keldan 8M CRI 96 Modular Video Light 8,000 Lumen 5600K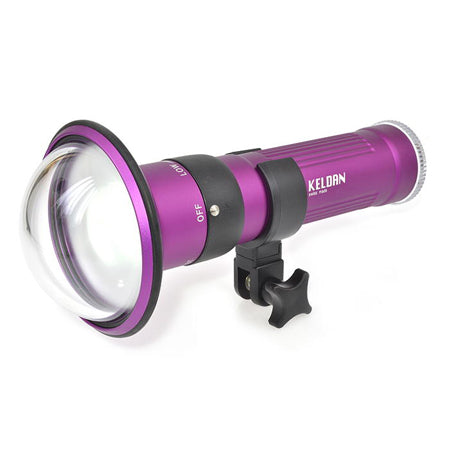 $2,026.00
Regular price $2,026.00 Sale
The KELDAN Modular Lights are the only professional video light designed with a modular philosophy.
It allows the camera operator the ability to customize underwater lighting for their style of shooting. It is optimized to produce the highest quality light with very high brightness and a smooth wide beam.
A large variety of different LED modules and reflectors is available to satisfy any demand for creative and scientific work.
Very powerful, small and lightweight, 8'000 lumen LED video light with excellent color rendering
Excellent color rendering index, typ. CRI 96 (Ra)
28-105 watt LED power
8'000 lumens, 5'600 kelvins
Burntime 45-170 minutes
Package includes: Li-ion battery, charger, reflector, LED module, ball mount
LED technology with outstanding color rendering
The LED used for this video light provides a very natural white light in daylight quality with a color temperature of 5600 Kelvin and with an outstanding high color rendering of 96 (Ra).  A unique feature is the variable power with 5 settings ranging from 28-105 Watt.
Soft 90° beam
The unique optical design with diffuser and dome lens results a very soft and wide beam of 90° on land as well as in water. There are no hot spots and the edges are smooth.
Self-contained
The self contained design makes this light very easy to use. There is no need for special mountings for the battery canister.
The included bracket allows easy mounting on standard arm systems like the Ultra Light arms.
Small and lightweight
The design is optimized for very small dimensions and light weight. You do not find any other light on the market which is as small and powerfull than the Video 8M CRI.
The complete set (light, bracket, diffuser) ads only 0.14kg to your gear.
Tough Design
The LED can not break and has almost unlimited lifetime.
Thanks to its overtemperature protection, the light can also be used outside the water.
Li-Ion Battery
The Video 8M CRI uses a rechargeable Li-Ion battery pack which offers much higher power density and less weight compared to NiMH batteries. The Li-Ion batterypack also offers better performance in cold water conditions than NiMH batteries do. The batterypack can be easily exchanged within a few seconds.
The wall adapter accepts 110V to 240V AC. Exchangeable adapter plugs allow worldwide use.
Charge Display
An eight stage charge level indicator gives you the charge level while charging or diving. 
Accessories
Some of available accessories and spare parts for this light are: 
Specifications
| | | | |
| --- | --- | --- | --- |
| Light flux max. power | Candlepower max. power | Burntime max. Power | max. el. power |
| 8000 lumen | 5'400 candela | 45 minutes | 105 watt |
| | | | |
| --- | --- | --- | --- |
| Light flux min. power | Candlepower min. power | Burntime min. Power | min. el. power |
| 2'700 lumen | 1800 candela | 170 minutes | 28 watt |
| | | | |
| --- | --- | --- | --- |
| Beam angle | Correlated Color Temperature | Charge time | Battery capacity |
| 90° | 5'600 kelvin | 3-4 hours | 97 Wh 14.8V |
| | | | |
| --- | --- | --- | --- |
| Diameter (Head) | Length | Dry weight | Wet weight |
| 12 cm | 29 cm | 1.1 kg | 0.14 kg |
---