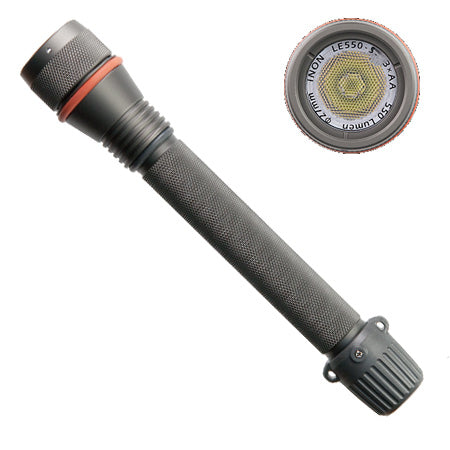 $252.00
Regular price $252.00 Sale
Inon LE700-W Dive Light
75 degree wide beam

●Ample features as primary lighting source for photography/videography with powerful 700 lumen and wide 75 degree coverage as well as diving light to illuminate wide area for cave or wreck diving.
●The LE700-W carries specially designed reflector to produce wide and even coverage with natural beam pattern where light is gently diffused around covered area. Standard accessories of the LE700-W include three "Filter LE" in red/pink/orange to change color tone to suit to combined camera, shooting condition and personal preference, which is ideal for photography and videography with its light quality.

●Wide range of optional accessories is available to install on a camera or camcorder.

●The LE700-W runs on easily obtainable 3 x AA size batteries. Practical burn time with eneloop pro rechargeable batteries is rated approx. 75 minutes(*). Using compatible rechargeable batteries like "eneloop" enables you to share same battery charger with an INON strobe to enhance mobility and minimize your luggage space.  * Average measured time underwater (approx. 25℃/77°F) to get half brightness when continuously ON the product.

●The light head and battery box is made from seawater-resistant aluminum alloy. Simple yet durable construction with double O-ring for moving parts supports depth rating 120m. The independent rotary switch part is equipped with a stopper to prevent accidental flooding due to over loosening and reliable ON/OFF operation.

●Gold coating on electrical contacts of the light head and battery box provides maintenance free circumstances under normal usage.
●Interchangeable Light Head design enable you to use "LE700-S", "LE550-W", "LE550-S", "LE250" Light Head depending on usage and supports possible upgrading to future model as well.
Output:  700 lumen
Beam: 75 degree with no filter
Color Temperature approximately 6,000K
Runtime:  60 minutes with rechargeable Li-ion battery, approximately 125 minutes with lithium battery
Dimensions:  33.7mm x 193.6mm   / 1.3in x  7.6in
Depth Rated: 120m / 394 feet
weight in air 217.5g / 7.7oz,
weight underwater: approx. 131g / 4.6oz
---