Ikelite B16 Ikelite ICS-5 Bulkhead with M16 Threads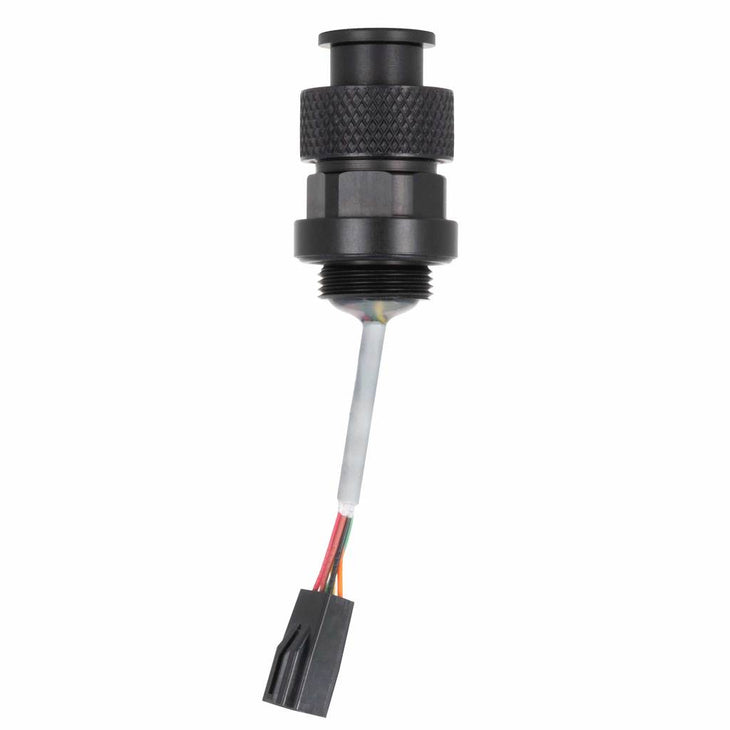 $110.00
Regular price $110.00 Sale
Add the Ikelite ICS-5 bulkhead to your housing for the fastest and most reliable strobe triggering available for underwater use. This bulkhead supports TTL or manual strobe exposure depending on the combination of camera system and accessories.
TTL Strobe Exposure
This bulkhead is capable of providing TTL communication when used in a compatible system. TTL or "Thru-the-Lens" flash metering means the camera evaluates the scene and communicates exposure information directly to the external flash. The camera adjusts the power output of the external flash each time the shutter is depressed.
TTL exposure is faster and often more accurate than setting the flash output manually. TTL can be the difference between getting a properly exposed image or not, especially when shooting fast-moving subjects and subjects that are moving towards or away from you. TTL is by far the easiest way to shoot perfectly exposed macro photography and allows you to concentrate on focus and framing. When shooting wide angle or close focus wide angle (CFWA), set your camera to properly expose the background and let the camera adjust your strobe intensity for proper exposure of the foreground.
TTL exposure requires a compatible camera, TTL hotshoe, DS Link TTL Converter, current model Ikelite DS series strobes, and an Ikelite-to-Ikelite single or dual sync cord. Refer to the table below for TTL hotshoe and converter availability by camera manufacturer.


Examples of wide angle photography with TTL flash taken using the DL2 DS Link Sony TTL Converter with dual DS161 strobes.
ICS-5 Plug and Bulkhead
The Ikelite ICS-5 bulkhead was designed as a more robust and reliable alternative to the finicky Nikonos V film camera bulkhead. Compared to Nikonos V (also known as N5) fittings, the ICS-5 connector system features larger and more robust gold-plated contacts. Most importantly, the easy-to-see half-moon indexing design makes it easy to orient and attach the plug connection quickly and correctly.
ICS-5 fittings have been used for decades in the most demanding industrial and commercial applications. They are often imitated and widely appreciated as one of the most reliable waterproof connections for electrical signal transmission.
TTL can even work on highly reflective subjects underwater, which can be one of the most challenging lighting scenarios.
Related Articles
The Myth of TTL Strobe Exposure Underwater
DL1 DS Link Nikon TTL Converter Underwater Photos
DL2 DS Link Sony TTL Converter Underwater Photos
Housing Compatibility
Compatible with select housings by Nauticam and other manufacturers featuring a spare M16 threaded accessory port. Hotshoe compatibility is based on camera manufacturer, desired cable direction when looking from the back of the camera, and whether a compatible TTL converter is being used.
It is recommended to water pressure test and/or take an empty housing diving at your maximum depth after installing this bulkhead and before installing a camera in the the housing. Tightness of the bulkhead to the housing body should be checked on a regular basis. 

Sync Cord Compatibility 
This bulkhead is only recommended for use with newer sync cords featuring black hard anodized plug fittings with product numbers starting with the numbers "45." Older nickel plated brass sync cord fittings may damage the threads and seize up. 
Hotshoe and TTL Converter Compatibility
Camera
Direction
Pin Configuration
Hotshoe #
TTL Converter #

Canon

Sony

Left
Manual
46071
-
Canon
Left
TTL
46073
46074
Nikon
Left
Manual
46065
-
Nikon
Left
TTL
46066

46051
Nikon
Right
Manual
46063
-
Nikon
Right
TTL
46064
46051

Olympus


Panasonic

Left
TTL

46030
46033

Olympus

Panasonic

Right
TTL
46035
46033
Sony
Back
TTL
46041
46043


In the Box
Bulkhead with M16 threads

Waterproof bulkhead cap # 9104.7 (installed)
Documentation
Coming Soon
---