Nauticam Digital Cinema System for ARRI ALEXA Mini Camera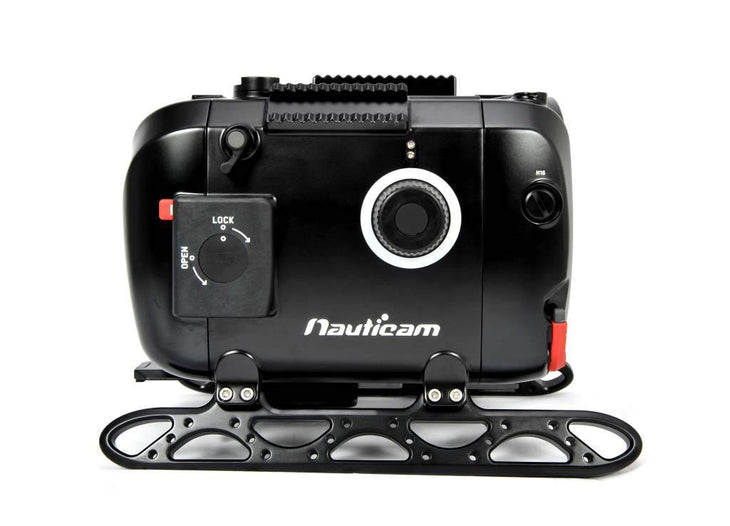 Introducing Nauticam Digital Cinema System for ARRI ALEXA Mini Camera
This housing has been produced in collaboration with HydroFlex, the world's leading underwater cinema equipment rental house, owned by Pete Romano, ASC. Pete has over 30 years experience designing underwater housings for motion picture cameras, and numerous credits as Underwater Director of Photography from some of Hollywood's most memorable feature films. Pete's expertise, combined with the unmatched Nauticam design and manufacturing capability, form the perfect underwater housing system for Alexa Mini – available for rent at HydroFlex Partners worldwide.
The Alexa Mini is ideal for use on drones, gimbals, and integrates perfectly into the Nauticam Cinema System. The 4:3 Alexa sensor, complete with anamorphic de-squeeze, ArriRAW, and ProRes recording in camera to CFast 2.0 cards in an underwater system captures footage that cuts seamlessly with other Alexa cameras on set, with the same workflow.
Easy Camera Prep
Designed with both owner/operator and rental markets in mind, the Nauticam system is very easy to set up. Armed with only a coin and a #3 allen wrench, the entire support and lens control system is constructed on the camera base plate outside of the housing. This means the rig can be built on a table, in good light, with plenty of working space. Once the camera is assembled on its tray, the entire system slides into the housing, and locks securely in place.
Universal Lens Controls
Lens swaps are easily accomplished with the camera out of the housing, or from the port opening when the camera is installed.
The lens gearing system is universal, sliding forward or back to match lens control ring placement, and swinging down to positively engage. No tools are required, with thumb screws securely locking all adjustments in place.
A "C" Shaped support ring is used with very long zoom lenses, providing structural support that allows for precise control.
A tremendous range of lenses is supported, from very small Zeiss Standard Speeds, to very large cinema styled zooms. Our port system has been tested with Arri UWZ 9.5-18, the most sophisticated wide angle lens ever produced, with excellent results.
Less Time Prepping, More Time Shooting
Especially with the rental market in mind, the system comes out of a travel case, and is ready to shoot in a matter of minutes. The three housing handles slide into dovetail grooves, and are securely locked in place with cam levers. These handles can be adjusted in water to fine tune ergonomics and control access.
Cinema Focus, Iris, and Zoom Knobs
Large diameter rubberized lens control knobs with marking disks provide the operator precise control over the lens, and are placed at the handles for ergonomic operation.
Optically Coated Glass Dome Port
Our exclusive 250mm optically coated glass dome port is supplied with every system, and we believe it is the best optic available for cinema lenses.
The 250mm dome port diameter – 10 inches – is a key for good wide angle imaging performance with many cinema lenses underwater. Smaller domes can work well with close focusing SLR lenses, but many cinema lenses have a longer minimum focus distance in the .35-.40m (14-16″) range. Using Arri Master Prime T1.4/14mm, with its .4m MFD as an example, the 250mm dome provides clearly superior results, with much less corner softness than smaller domes. This is the very same dome used in the optical system designed in conjunction with HydroFlex for Alexa65, and used on feature film productions.
The glass dome is rugged, and extremely resistant to scratching. Broadband Anti-Reflective Coatings eliminate flare, reflections, and ghosting from the port optic. A robust machined aluminum shade protects the dome, and provides additional flare resistance.
Patented Port Locking System
One of the most iconic Nauticam features is the red Port Locking Lever. This system uses an internal bayonet, allowing ports to mount directly on the housing, then lock securely in place. No twisting is required, just press in and lock! This simplifies lens changes, and actually reduces the chance of an extruded o-ring causing a leak.
Accessory Mounting
Numerous 1/4-20, 3/8-16, and 10mm threaded accessory mounting location are provided. These accessory positions allow monitors, lights, tripod/jib plates, and other accessories to be placed conveniently on the housing.

Battery Configurations
The housing ships with an Anton Bauer "Gold Mount" battery plate and LEMO connector for the Alexa Mini camera. Ample space is available for a range of battery pack sizes to be used in the housing, providing long operation times. Surface suppled power is also an option for for tethered all day shooting.
Weight & Trim Bracket
A sliding weight bracket allows front-back trim to be adjusted dynamically in water, providing a natural port up or port down position as needed. The bracket accepts readily available dive weights, easily sourced on location. Additional trim weights can be attached to the housing skids, or to trim weight mounting locations strategically placed on the inside of the housing, to dial in neutral buoyancy and left-right balance.
On Camera Monitoring
A number of on camera monitoring solutions are available from Nauticam. Options include the smartphone sized SmallHD 502, widely used TVLogic VFM-058, and 7″ Atomos Shogun. TVLogic VFM-058, in Nauticam NA-058 Housing, is shown here. The 5.5″ 1920×1080 screen with professional monitoring tools for judging focus ad exposure is an excellent choice for Alexa Mini systems.
Universal Lens Controls
Unencumbered surface control is a key need of many top underwater professionals, and those needs have been integrated in as many forms as possible throughout the design process.
The base "diver controlled" system completely satisfies the needs of a single operator, but our lineup of accessories geared toward production sets makes the Nauticam housing as at home on a feature film set as it is on an Indo-Pacific coral reef.
The housing contains enough internal space for internally mounting the Arri "cforce mini" Motors. These motors drive the housing lens controls, not the lens itself, meaning any lens supported the housing can be set up for surface control of Focus, Iris, and Zoom. Alexa Mini features a built in motor controller, allowing the system to be set up without any motor controller box!
These motors are mounted on purpose built brackets affixed to the camera tray, and do not need to be removed when changing lenses, or when pulling the camera from the housing.
HD-SDI Cables for Surface Monitoring
4-Pin Waterproof LCS Cable for WCU-4 Control of 3 Motors and Camera Functions
Ethernet for Surface Camera Control
"cforce mini" Motor Mounting Brackets
The housing also ships with two 3/4″ Hydroflex Bulkheads allowing the power, remote control, and remote monitor umbilical from other Hydroflex rental systems to be used on Alexa Mini.
Vacuum Check & Leak Detection
The advanced vacuum check and leak detection system allows the water tight integrity of the system to be tested before going in the water, and an advanced vacuum monitoring system with built in temperature compensation constantly provides operator feedback about system safety.
A "dual activation" vacuum valve enables vacuum testing with commonly available BCD inflator hose, or a hand pump for situations where compressed air isn't available.
Item Includes:
Housing with 3 Lens Control Assemblies
250mm Optically Coated Glass Dome Port
30, 40, and 50mm Locking Port Extension Rings
Vacuum Check & Leak Detection System, Dual Activation Vacuum Valve
Anton Bauer Battery Plate
Trim Weights
Pelican 1630 Travel Case with Laser Cut Foam Dividers
Top handle
Tool Kit & O-ring Kit
Other Accessories
Monitor Housings:
17903 NA-058 Housing for TVLogic VFM-058.
17907 NA-502 Housing for SmallHD 502 Monitor.
17905 Nauticam Housing for Atomos Shogun with SDI Cable.
Accessories:
16406 N200 8.5" Acrylic Dome Port (for extended depth range).
16307 N200 Flat Port (180mm Glass Diameter)
25065 45m HD-SDI Surface Video Cable.
25058 HD-SDI Bulkhead.
16223 45m Arri LCS Surface Cable (for WCU-4).
16224 Arri "cforce mini" Motor Mounting Brackets
16225 45m Ethernet Surface Cable.
Resources
Coming Soon!