Blue Heron Bridge PHOTO Workshop - New Dates for 2023!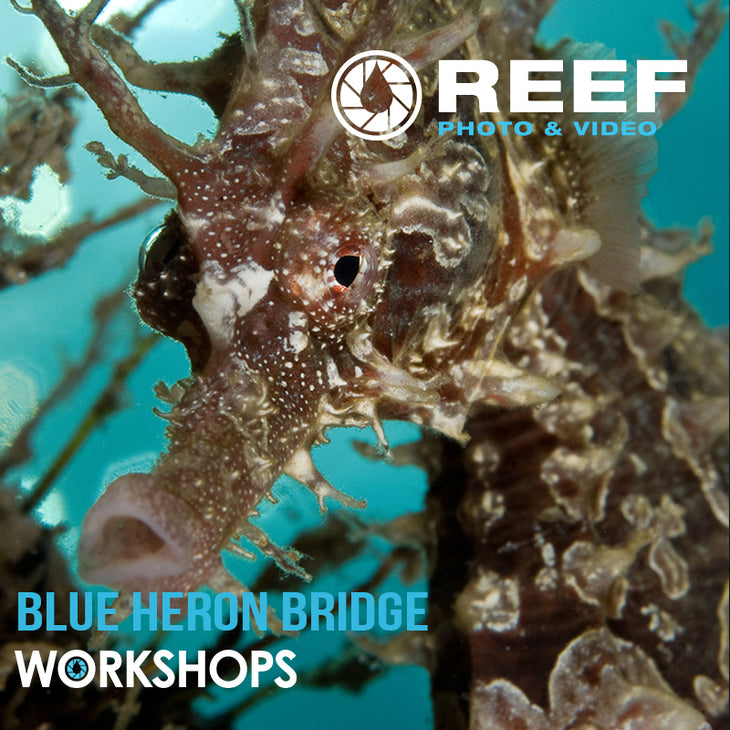 Introducing Blue Heron Bridge PHOTO Workshop - New Dates for 2023!
What is included:
The workshop fee includes tanks, fills, and weights to be provided by Pura Vida Divers. 
We will be using 80 cubic foot aluminum air tanks equipped with yoke valves; if you need DIN valves or would prefer Nitrox for a fee, please notify us several days before class. Pura Vida will need to know how much lead weight you would like.  We will arrange the rental of tanks & weights for you, to be picked up the morning of the dive.
For any other diving equipment needs, please contact Pura Vida Divers directly and tell them you will be participating in the Reef Photo & Video photography workshop.
We take care of arrangements for the following which are included in your workshop fee (tips not included):
dive weights, tank rentals, & air fills
transporting tanks between dive shop and the workshop dives
dive guides, diver down flags; dive boat when applicable
classroom facilities
Check out our informational article on these amazing workshops here.
Take advantage of one of the finest macro sites in the world, our own Blue Heron Bridge, located in West Palm Beach, FL. This 3-day clinic focuses on macro photography, and there may not be a better setting anywhere to hold this kind of class.  The bridge is actually located on the intercoastal waterway, inshore. This protected area has a great tidal exchange, protection from two bridge structures, and an island (Phil Foster Park).
A curious octopus—one of the many creatures you're likely to find while diving Blue Heron Bridge. ©Shen Collazo
The diversity of macro life at the Blue Heron Bridge dive site is unlike anything else in the tropical Atlantic. Unusual critters like seahorses, frogfish, pipefish, sea robins, batfish, stargazers, nudibranchs, and flatworms, are common sightings.  A host of juveniles start their lives in this protected area before moving out on the reef.  Tropical angelfish, spadefish, barracuda, and jacks are found amongst the bridge pilings.  Eagle rays and stingrays feed in the sand flats, and manatees are even seen on occasion. 
In addition to photo instruction, this class includes a dive guide for every 2-3 divers. Our guides work for local dive operators or in the Reef Photo store and are expert Blue Heron Critter Finders. Our guests can focus on taking pictures, and we'll lead you from subject to subject. No stress about dragging around a dive flag, navigation, or boat traffic; just relax and take pictures!
Conditions at Blue Heron Bridge are ideally suited for participants to relax and focus on photography. 
©Tanya Burnett
We'll begin Thursday night with a very thorough briefing of the site, a slideshow introducing the subject matter you'll find, and some tips for photographing the marine life in the park.
Classroom topics will start with macro camera settings, focus strategies, and exposure tips. Once you've got a grasp on the basics, more advanced lighting, composition, and creative effects can be explored.  Our staff uses Adobe Photoshop Lightroom for image cataloging and editing, and a thorough digital workflow introduction is included.
Bring:
All of your dive gear other than weights & tank (if you need anything else, please pre-arrange for it through Pura Vida Divers.)
A cutting device (for fishing line) and a compass.
Laptop with image processing software installed for classroom sessions.  Adobe has a

 

free 7-day trial

 

for you.
Your diver certification card; checking certifications over the internet is time-consuming and not always reliable.
Your underwater camera gear.
Memory card(s) for your camera.
Cancellation Policy:
Class sizes are limited and your workshop reservation is secured at the time of payment.  We want you to concentrate on improving your underwater photography skills, not worry about arranging dives.  Making these workshops as fun and productive as possible involves many contractual obligations on our part, therefore workshop fees can only be refunded if canceled 14 or more days in advance.

Join us! We have several workshops throughout the year to fit your schedule.
Resources
Lodging
Lodging and meals are not included.  The following hotels are recommended:
**Mention that you are diving with Pura Vida Divers for special perks!**
Singer Island Hotels (walking distance from Pura Vida)
Hilton Singer Island
3700 State Highway 703  
Riviera Beach, FL 33404
(561) 848-3888 (ask for the Dive Rate)
Sunshine Shores- Resort Apartments 
101 Blossom Ln, 
Palm Beach Shores, FL 33404
For reservations, please contact Derek LaRosa:
561.844.6194- office
Derek@sunshineshores.com
www.sunshineshores.com
Marriott Singer Island 
3800 North Ocean Drive
Singer Island, Florida 33404
(561) 340-1700
Toll-free: 1-877-239-5610
West Palm Beach Hotels (driving distance from Pura Vida)
Marriott Palm Beach Gardens 
4000 RCA Blvd, 
Palm Beach Gardens, FL 33410
For Diver Rate contact Derrick Steinour
561-630-1335 
derrick.steinour@marriot.com
Book Online and use the promo code D21 under special rates and rewards 
Best Western Palm Beach Gardens Hotel & Suites 
11360 US Hwy 1
Palm Beach Gardens FL 33408
For Reservations call:  561-844-8448
 DoubleTree: Palm Beach Gardens 
4431 PGA Blvd
Palm Beach Gardens, FL 33410
(561) 622-2260
www.doubletreepalmbeachgardens.com
 Holiday Inn Express-Juno Beach 
1395 US Highway One
Juno Beach, FL  33436
561-622-4366
Getting Here:
The dive site is around 20 minutes from Palm Beach International Airport (PBI), and around one hour from Fort Lauderdale/Hollywood International Airport (FLL).   If you are flying in from out of town, a rental car will be necessary for transportation between the classroom, dive site, and hotel.
Click to see a Google map of the dive site, hotels, airports, Reef Photo retail showroom, and classroom location.
*Thursday evening orientation, slideshow, and briefing will be held at the Reef Photo & Video Store, Fort Lauderdale.  All other classroom sessions will be held close to the dive site.