Fantasea UWL-400Q Wide Angle Lens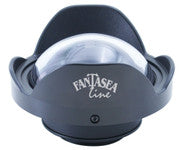 $430.00
Regular price $430.00 Sale
Specifications
52mm thread mount (removable and can be replaced with a Bayonet mount, separately purchased)
Bezel / Barrel material: Aluminum alloy with black hard anodize, ABS 
Lens construction: 5 groups and 5 elements 
Lens coating: Hard coating on the Polycarbonate dome lens + Multi layer AR coating on all glass lenses 
Depth rated to 100 meters / 330 feet 
Magnification: 0.50X 
Angle of View: 120 degrees* 
*Diagonal angle of view (or field of view) on land, using a focal length equivalent to 24 mm with a 35 mm format image sensor. To understand how this lens performs using a specific camera, please contact us.
Focus distance: 0mm from the dome 
Weight (on land): 606 g / 21.4 oz 
Weight (underwater): 224 g / 7.9 oz 
Dimensions (diameter x height): 121.8 x 76 mm / 4.8 x 3.0 inch
Included in package: Neoprene dome cover, rear lens cap, EyeDaptor M67-F52 lens adaptor, secure string, microfiber cloth, O-ring remover and lens padded carrying case
The Fantasea UWL-400Q Wide Angle Lens is a Super Sharp Wide Angle conversion lens that attaches to the housing lens port thread and can be installed and removed during the dive. The lens is compatible with the Fantasea Bayonet System (QRS). Bayonet adaptors can be separately ordered.

The UWL-400Q was designed for cameras featuring a 24mm lens (35mm equiv.) or any higher focal range. 
It is perfect for photographing seascapes, divers, ship wrecks and schools of fish without moving further away from the subject, thereby still taking full advantage of water clarity and artificial lighting. 

It also allows focusing on short distances, making it perfect for CFWA (Close Focus Wide Angle) photography. 

The UWL-400Q is compact and lightweight, allowing for easy storage and transportation and comfortable handling of the lens during the dive.
Compatibility

The UWL-400Q is compatible with most all cameras featuring a 24mm lens (or a higher focal range). It can also be used with some cameras featuring a wider lens by zooming in to avoid a vignette. 

The UWL-400Q features a 52mm thread and can be mounted directly on lens ports with a 52mm thread or on lens ports featuring a different thread, by using a compatible adaptor. The EyeDaptor M67-F52 lens adaptor is included in the box and allows mounting the lens on housings featuring a 67mm threaded lens port. 
Alternatively, the 52mm threaded adaptor mount screwed into the lens can be replaced with a Bayonet mount (separately purchased) for quick and easy installation and removal of the lens when used with a compatible Bayonet system (QRS).
---