Nauticam NA-GX85 Housing for Panasonic Lumix DMC-GX85/GX80/GX7 Mark II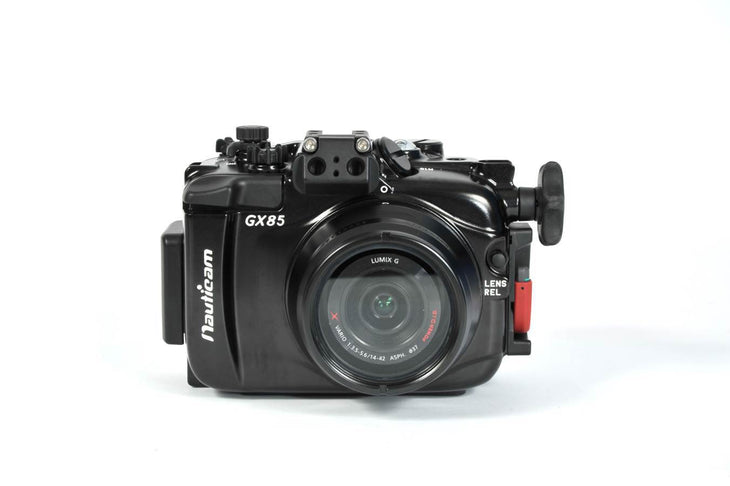 Introducing Nauticam NA-GX85 Housing for Panasonic Lumix DMC-GX85/GX80/GX7 Mark II
The Panasonic Lumix DMC-GX85 (GX-80 or GX7MKII) Camera
The GX85 comes ahead of its rivals in the entry-level mirrorless interchangeable lens market with some incredible features for the price. Major points are gained through the Dual I.S. image stabilization that combines 5-axis in-body stabilization with the internal lens stabilization found on Panasonic IS lenses. The GX85 also features Panasonic's DF or Depth from defocus autofocus, which calculates a subject's distance and uses that information to drive the autofocus system.
The GX85 removes the low-pass filter giving even sharper images from the 16MP CMOS sensor. The ability to shoot 4K (UHD) at 30p is enhanced with the 4K PHOTO mode that can take advantage of Panasonic's "Post Focus" technology allowing for a change of focus in post and for pulling 4K still photos while still shooting at 30 frames per second.
Key Camera Specifications
16MP CMOS 4/3 Sensor without OLPF
5-axis Dual IS Stabilization
4K UHD at 30p internal recording at 100 Mbps
2.75M Dot 16:9 Electronic Viewfinder
Sync speed of 1/4000 sec
4K Photo Post Focus Feature
The Nauticam NA-GX85 Underwater Housing
Nauticam users will find all the premium features from Nauticam's other mirrorless housings that they have come to love on the NA-GX85. As part of the housings that utilize the N85 port system there are a massive number of supported lenses and port options available for every shooting style.
Nauticam engineers have worked hard to make sure that all essential exposure and capture controls are at the shooter's fingertips, regardless of where on the camera these dials or buttons may be.
The NA-GX85 can be paired with a variety of accessories to suit the needs of the shooter. From tripods to trays and video monitors the NA-GX85 can be turned into a full featured video rig. Combining the NA-GX85 with the N85 WWL-1 and CMC system, the image maker will have the option for zoom-through wide angle and dedicated macro all on the same dive.
The NA-GX85 comes equipped with Nauticam's signature Vacuum and Leak Detection system electronics pre-installed. With the addition of a Vacuum valve the system is ready to provide constant feedback on the watertightness of the system via a large multi-color LED on the rear of the housing.
The Nauticam Easi or Flexitray system isa . perfect fit for those looking to add handles to their NA-GX85 system. the same handles found on DSLR and larger Mirrorless systems is now available for all housings. The NA-GX84 ships with the stabilizing brackets and trigger extension needed when using the Easi or Flexitray.
Flash triggering is accomplished via integrated fiber-optic bulkheads that operate off the built-in flash of the camera. Electronic bulkheads are also available to trigger legacy strobes that do not accept fiber-optic connections.
Resources
Support & Download
What's In The Box?
NA-GX85 Housing
Spare Main O-ring
O-ring Remover
CR-2032 Battery (for Moisture Alarm)
Lubricant
Set of Allen Keys
Set of handle brackets with shutter release extension