Light & Motion STELLA PRO EXPEDITION KIT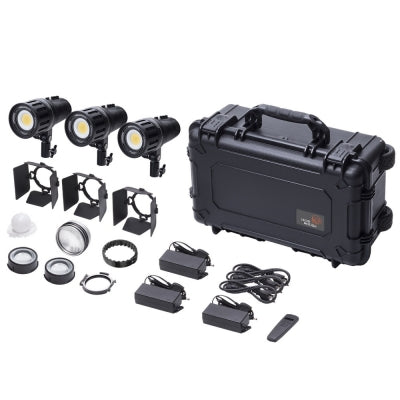 $5,500.00
Regular price $5,500.00 $5,500.00 Sale
The Stella Pro Expedition Kit provides professional cinema-quality lighting that sets up fast and travels the world. From location sets to off-the-grid adventures, the Stella Pro Expedition Kit is the most compact, rugged, fully waterproof, powerful cord-free lighting kit for mobile production crews and independent operators wanting to do more with less. The Stella Pro Expedition Kit includes everything you need for a 3-point lighting set up: 3 Stella Pro 5000 RF Lights, wireless remote, an array of compact portable modifiers, mounts, and power options that all pack into a travel-friendly hard case roller.
Featuring:
- The Stella Single Point LEDs are a powerful game-changing tool for on-the-go content creators. Stella's high-output COB array delivers the optical characteristic of a single-point light source while keeping Stella's footprint small. Stella's smooth, even, 120-degree beam can be easily shaped and modified to provide a hard or soft light that renders colors beautifully with consistent, regulated, powerful output.
- With no cords to plug in or ballast warm-up periods, Stella Pro spLEDs setup fast and due to the lightweight design do not require heavy stands or counterweights. Featuring an extremely rugged waterproof construction, these powerful lights can operate in any location regardless of weather or power availability. The on board, high capacity battery delivers 90 to 375 minutes of regulated runtime, completely cord free. Stella lights can also be powered from AC or with an optional D-Tap Cable accessory.
- Stella's integrated Li-Ion battery allows Stella Pro lights to travel in carry-on or checked baggage without restrictions or excess baggage fees!
- RF wireless control with further enhances the capability of the Stella Pro 5000 RF allowing long range and reliable wireless control of one or multiple lights from a small, Micro USB rechargeable remote.
- Stella lights are proudly built in California and are backed by a 2 year warranty and Light & Motion's "Enhanced Experience Guarantee."
Technical Details:
• High Output "Chip on Board" LED
• Certified TLCI 93+, CRI 92+, CCT 5600 Kelvin
• Output up to 5000 Lumens with 9,100 Lux at 1 Meter with Fresnel len
• Controlled focus from 120° down to 50° & 25°
• Broad range of accessories including Profoto, DOP Choice, and Chimera adaptability*
• Rechargeable Lithium-ion battery operates from 90 – 6.25 hours (5000 RF)
• Regulated lumen output - does not fade during use
• Fast Charge of 2 hours, 80% Charged in 1.5 hrs
• Runs off wall power, DTAP, 11 - 25V
• Tested Flicker-Free - 7000 fps
• OLED Digital Display for precise readout with power output, battery, and charge status.
• Dimming with stepped or continuous control
• Intuitive three button interface provides fast, precise output control and navigates settings menu
• Built in Elinchrom wireless communication transceiver supports up to 20 frequency channels and 4 light groups.
• Certified performance (FL-1 Standard)
• IP-68 Fully submersible to 100 meters. Impact tested up to a 1 m drop onto concrete.
Included:
3 Stella Pro RF 5000, EL Remote Control, 3 YS Mount Pro, 3 C-Stand Mount, 3 High Leverage Handle, 3 Barn Doors, 2 50° Focus Optic - DM, 25° Fresnel, 3" Speedring Gel Holder, Glo Bulb, Profoto Adapter, Power Supplies, Rolling Hard Case.
---